Australian approvals skyrocket in 2020
Australia's medicinal cannabis space has come a long way from waiting a gruelling month for TGA approvals to having it on your lap typically within three days.
The efficiency boost has branched pathways out to more Australians on the hunt for something to replace ineffective or potentially addictive painkillers for their chronic pain.
The numbers are showing 
A record number of over 50,000 approvals for medicinal cannabis have been issued in Australia as of June 2020, with the month itself rolling in the highest numbers since legalisation in 2016.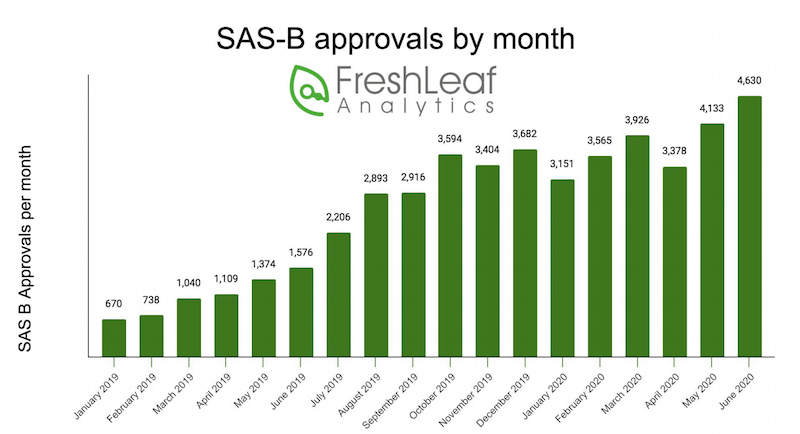 According to FreshLeaf Analytics, Australia's active medicinal cannabis patients are estimated to have reached a whopping 20,000 currently.
Growing the seeds
This could also be due to the expansion of the "CBD/THC" sector. Beginning with CA Clinics, the largest medicinal cannabis network in Australia, the industry has grown to include others such as Cannvalate, Cannabis Doctors Australia (CDA) and more.
As time goes, we've not only thinned the red-tape, but gathered more research and data as well as broadened minds to a once highly stigmatized substance. 
Gathering evidence 
There has been research to show some possible therapeutic properties to medicinal cannabis treatments. 
For example, medical cannabis has proven to have some effects on the following TGA approved conditions: 
Chronic pain
Epilepsy
Parkinsons
Multiple sclerosis
Cancer pain
Growing General Practitioner acceptance
The rapid growth of medicinal cannabis also reflects a growing acceptance amongst the GP community. Whilst doctors are often reluctant to prescribe themselves, many are referring to specialised clinics to ensure quality of care for their patients.
Still a way to go…
While this progress means a less obstructed corridor to therapies, there can be some situations where patients might still wait weeks to access medication. This is due to things such as specific requirements of state government bodies, which are a separate pathway from the TGA. 
Also, with limited exceptions, cannabis medications remain non-subsidised by the Pharmaceutical Benefits Scheme (PBS) in Australia, and thus can mean greater costs for many when compared to mainstream medications. 
However there are hints that the future for Australia's medicinal cannabis space might be looking at a few positive changes: 
Australia has made many moves to make access to medicinal cannabis products a little easier on the watch and wallet. For example, this year, an epilepsy medication might see approval and evaluation fees waived and be eligible to be in the PBS. 
Additionally, Kalkine Media reported that the Australian cannabis industry might be expected to generate about $55 billion by 2025 due to 'Australia's agricultural expertise and favourable, cannabis-conducive atmosphere.'
Still, there are aspects of medicinal cannabis treatments that remain in the fog, which underscores the need for more research, trials and studies for each condition. It also highlights the importance of consulting a doctor or specialist trained in the latest in medicinal cannabis when administering such therapies. 
---
DISCLAIMER: The content on this page and the rest of the website are not meant to relay medicinal cannabis as a definite treatment, but to educate and inform on these treatments. For more information on the Australian medical cannabis industry, please speak to your doctor or call us at 1300 991 477.